So many of our newest clients are coming in after working with another Chicago SEO Company who has them ranking for keywords that have nothing to do with their conversion goals.  Just having a
Search Optimized Traffic
Plan
(SOT)
isn't enough, the entire picture of targeted inbound traffic has to be a planned event. Inbound marketing means
strategically planning seo traffic
. Ranking for terms that have no conversion potential is a waste of resources, and only serves to be bragging rights for the bottom feeders of Chicago SEO Companies.  Often these Chicago SEO Companies will just take credit for the top ranking, luck of the draw,  items from Webmaster Tools, even if they have no impact on the business whatsoever. This is not only dishonest, but it has no relevance or impact on their primary purpose, to convert their site for their targeted traffic.
SEO Specialists who accidentally take credit for crap keywords.
Instead of trying to rank for random and "got lucky" terms, or trying to convert those who arrived at your site while looking for something your don't actually provide, your site team should be planning specific Inbound Marketing terms to use in your Search Traffic Strategy (STS).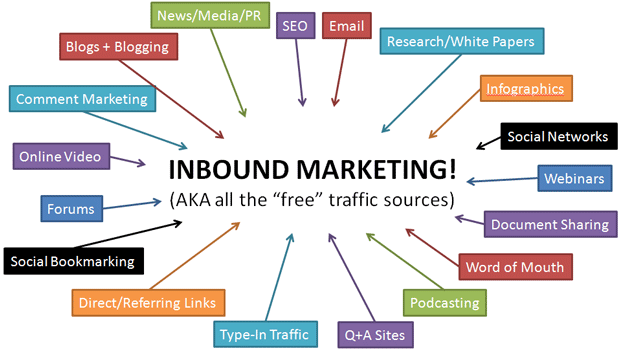 Your STS strategy should culminate with one specific goal: converting visitors to your site's primary purpose. If you have an ecommerce site, then the your strategy should focus on targeted traffic likely to desire your products.  The same holds true for services, content, blogs or any other type of site you are trying to deliver qualified search traffic to.
There are many blogs offering "Top 5 Search Strategy", or "6 Search Traffic Items You Can't Ignore", and any other spammy title of the like, but these are more for promoting that SEO Company's blog than to assist you in your goals.  Instead, we are going to simply list a couple of common sense solutions to amplify your Search Traffic Strategy and boost your converted inbound marketing. You'll find tons of blogs pushing strategies like the image below, but effectively, throwing all the crap at the wall and hoping it sticks isn't a strategy for anything but mayhem.
Be Realistic While Being Ambitious
Rome wasn't built in a day, but it was built. Your Search Traffic Strategy (STS) should be focused and well planned for realistic growth potential. Starting with a realistic view of keyword development, your strategy should begin focused on conversions and little else. Use keyword tools offered by Google to find the ones that will have the most direct appeal to the most potential visitors in your market.  If you are a local business, you should search all terms in a local area instead of looking at broad terms (since those in the Adwords Keyword Tool are based on national stats).  For local businesses as well, there is Google Trends.  Digging down to local areas to test keyword effectiveness is always suggested.  You may also want to verify keyword usage with customer and reader surveys.  Poll your readers and those you want to become readers on what terms they find the most engaging. Use this data to build future Search Traffic Strategy plans that will be more effective at pulling in convertible visitors.
Get Your Visitors To The Funnel, Not To The Fluff
Some marketers are now selling the theory of diverting traffic from your site to your social media and then back… This is absurd and a waste or potential conversions. All of those coaxing you to divert traffic elsewhere when a direct trip to your conversion funnel has fewer steps are asking you to risk conversions to prove their theory (that in many cases is only popular because a bunch of marketers bought into it and replicated it to their other clients).  In the end, the shortest distance between your visitors and your conversion funnel, then best.  Your keywords should be paired with your target conversions to bring the most qualified visitors to your funnel in the most efficient way possible.
Sell What You Sell
Instead of dancing around product keywords that have nothing to do with your own, stick to the ones people will use to find you. As long as the product can stand on its own, there is never a need to use fear tactics or subverted sales techniques to push your product Search Traffic. Many times we see the failure of this in scam sites pushing things like Prepper Food Supplies. We've all heard the fear mongering commercials about some guy who knows "a secret about a FEMA plan to cause global chaos"… probably leading to a zombie apocalypse and definitely death by snu snu…  Not only are these scams ridiculous in their appeals to those who are willing to eat up pandemonium as fact, they are a giant waste of resources since direct sales methods would likely provide better conversions.
In all of those indirect, fear driven ads, they waste mass resources while one direct ad would be able to garner the target purchaser without all of the deception.  The only thing gained from those skyscraper, dupe sites are the sheep who are dumb enough to add themselves to these site's mailing lists.  Worse, those unskilled enough to allow themselves to end up on these lists will likely lack the financial means of being strong sales candidates.
In the end, a simple, and direct sales message would weed out all of the non-purchasing traffic for those who would be willing to convert.  In fact, the only reason those clickbank and Newsmax scam feeds are even doable still is that the media still pushes them as well to push up their own affiliate banks.
 Only Use Analytic Data To Track Originally Targeted Keywords That Convert
As stated above, some Chicago and Naperville SEO Companies are all too willing to take credit for "oops" keywords.  If you have an SEO Expert bring you additional keywords that you never agreed to before (especially in a spreadsheet looking like it came from Google Webmaster Tools), your red flags should be going up.  Many times, struggling SEO Techs will bring thee up to divert from the failure to have clients ranking for the keywords that were to be targeted to begin with. If the keywords can't be cross-referenced to traffic
Instead, make a decisive list of keywords to track, and pay little, if any attention to the others without traffic data to legitimize them as useful terms. You will want to ensure that your keywords are ones that convert traffic and sales, and as a result, this will be a criteria needing regular investigation. Again, this is where the scared SEO Tech will bring up ranking for random terms, but be mindful that these terms will need serious scrutiny.  When adding additional terms to your watch list, ensure that they produce.  Search new keywords in "Google Trends" to see if they have any ranking.  This is especially true when you dig down to your local market. If you rank #1 for a term that gets 1 local search per month, then it might not be one worth nurturing.
If your SEO Expert tells you that this is a needed term, you may want to look for a more qualified representative. Ultimately, there will be new tools to pick up at every turn along the path, so most importantly, remain teachable.   SEO and Search Traffic Strategy are fluid and will require updating methods to adapt to updated measures.